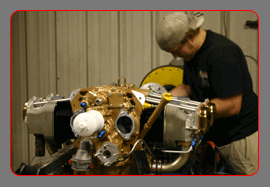 These are standard features on all our engines. The proof is in the test cell report. A copy is yours, free. The true quality of an engine can be seen in black and white.
In-house NDI-BPA staff includes Level II NDI technicians certified to MIL-I 271F.
All external hardware plated per federal specifications.
All cylinder deck heights matched to crankshaft centerline.
All crankshafts dynamically balanced with approved data.
Valve guides honed instead of reamed, meaning better finish and dimension control
Featuring Serdi Precision valve seat cutting equipment with three angle valve seats and no lapping – the ASCAR way.
flow matching available for experimental engines.
Engine updates incorporated at overhaul (SB, SI, AD's).
Traceable parts history for each component. NO bogus parts.